Universal LCD Controller Board Kit for 10.1 LED LCD Screen HSD100IF1 WSVGA
Product Code:
RTD2270
Reward Points:
0
Availability:
In Stock
Price: $20.99

RTD2270 LCD Controller LVDS Kit
Not: Please tell us the LCD panel model number when you purchase this item. Thank you very much!
Please scroll down for product instruction and wiring schematic.
How to combine multiorders into one shipment:
Step1. pick up the item by clicking "ADD TO CART".
Step2. After you get all the items you want to buy into the "SHIPING CART", click "PROCEED TO CHECK OUT" and follow the instruction to complete the order.
LM.R70.P* is a control board of LCD Monitor, maximum resolution supported is 1920*1080. It has a VGA input port, supports VGA signal of horizontal synchronization signal range from 30 to 80 KHz, vertical synchronization signal range from 56 to 75 Hz. Also, LM.R70.P* supports DLC.
To facilitate your manufacture, we provide : excellent burn-mode, ADC adjustment and save result automatically, burn EDID data from bar code scanner automatically . We also provide monitor drivers for Windows OS.
This is a great set of easy-reassembling LCD controller kit which is used to turn a bare LCD panel into a desktop/PC monitor. It will be a surprise that your bare LCD will be of good use, and no longer be a waste. Or it is a very insteresting things that we make a monitor successfully by ourselves. It supports most of the LCD panel from 12.1" to 55" with a LVDS interface and a resolution lower than 2048X1152, plug&play kit, no need soldering.
Notice: Please remember to leave us your LCD Model Number before placing the order, it is very import for us to prepare the right kit for you.
How to find a right lcd model number Please check the following picture. They are LP171WU5(TL)(B1),LM201U04 (A3)(K6), LM170E01(TL)(BB) and N133BGE-LB1. Their sizes are 17.1″,20.1″, 17″ and 13.3″.
Beside this kit, you will need to prepare the VGA cable/DVI cable/HDMI cable and power adapter yourself. If you need the power adapter, please contact us.
Since different inverter board depends on your LCD panel model, and we may update the controller board a little bit, the kits you would receive may not exactly the same as pictured, please note!
Panel
Interface

Single /Dual LVDS

Resolution
1920 * 1080 and the following

Power Supply

3.3V,5V,12V

Power

Requirement

12V or 12V ,5V

Standby Power

<0.3W

OSD Language
Simple Chinese, Traditional Chinese, English, French, German, Italian, Spanish, Portuguese, Japanese, Korean
Key Function

POWER, +, -, AUTO, MENU

Video Input

PC-RGB

Format

1920*1080@60HZ
| | | | |
| --- | --- | --- | --- |
| Environmental Characteristics | | | |
Temperature

Operating: 0℃to +40℃

Store: -20℃ to +70℃

Humidity

Operating: 10% to 90% (non-condensing)

Store: 5% to 95% (non-condensing)

Altitude

Operating: 10,000 ft.(max)

Store: 20,000ft.(max)

High Temperature & Storage

Test method &condition Please refer to GB2423.2 "Test Bd & Bb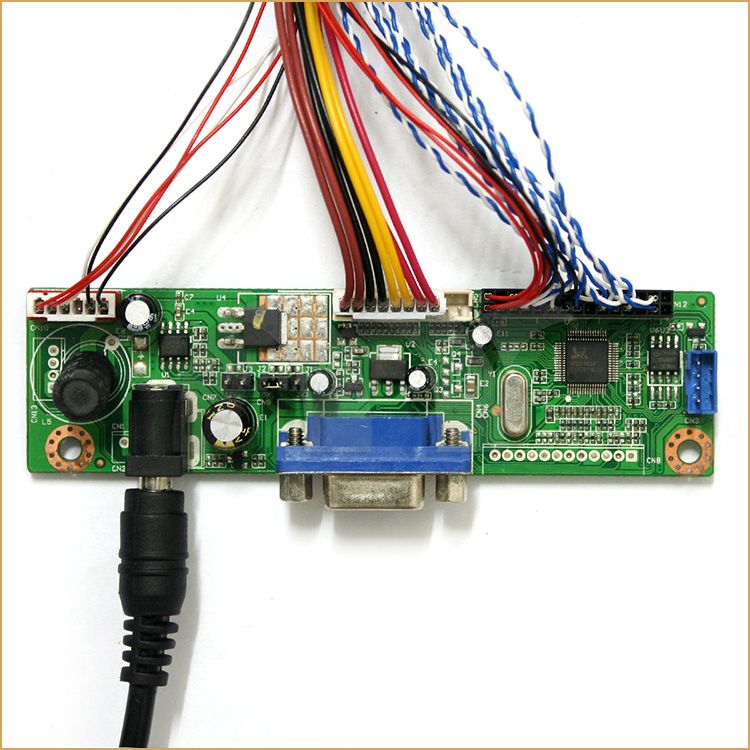 | | | |
| --- | --- | --- |
| | | |

NOTE:
For Safety Issue, please keep the board 8.0mm away from metal parts of the PC at least
A ESD shield bag is offered to protect the board from electrostatic or magnetic shock during delivery .But there is no metal case to ensure safety, so ESD handle is needed all time.
The brightness of panel is influence greatly by temperature. You must measure it in the same condition and wait until after power on 10~30 minutes.
4.Keep the board surface clean. Check appearance of the board to see if there are any issues that may cause failure or unreliability , such as dilapidate, weighty nick, etc.
Keep the board away from conductor when it is working
Don't press, distort or disassemble the board
Clean the board with soft dry cloth when it's dirty.
Don't wire in the board to power supply before panel is correctly connected.
1 LCD Controller Board
1 5-key keypad
1 LVDS Cables
Write a review
Your Name:
Your Review:
Note: HTML is not translated!
Rating:
Bad
Good
Enter the code in the box below: