2in1 Indicator 1-8s RC Lipo Battery voltage Tester low voltage Buzzer Alarm
Product Code:
1-8S
Reward Points:
0
Availability:
In Stock
Price: $4.26

1-8S 2in1 Lipo Battery LED Voltage Meter Tester Alarm
Please scroll down for product instruction and wiring schematic.
How to combine multiorders into one shipment:
Step1. pick up the item by clicking "ADD TO CART".
Step2. After you get all the items you want to buy into the "SHIPING CART", click "PROCEED TO CHECK OUT" and follow the instruction to complete the order.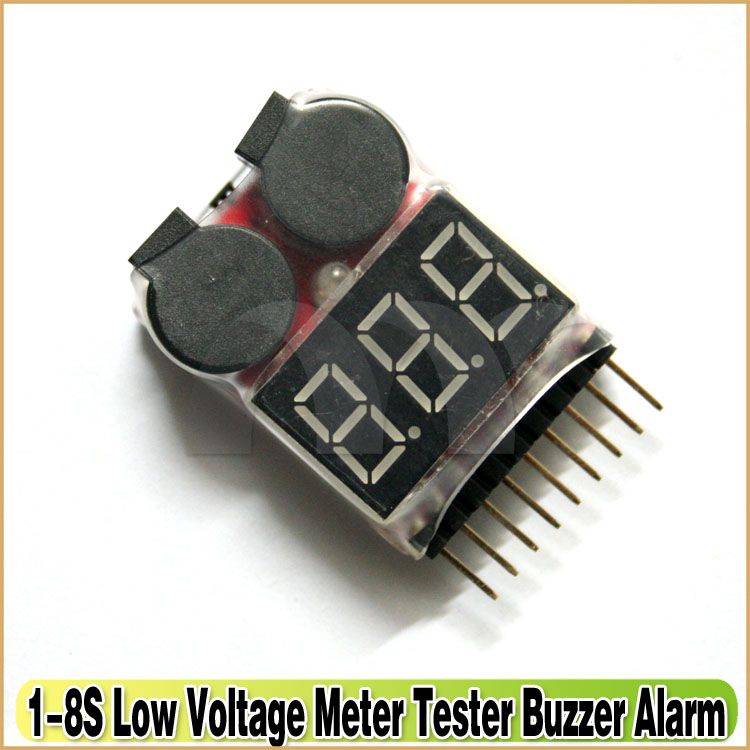 | | | |
| --- | --- | --- |
| | | |

Function of checking your lipo cells voltage
Function of lower voltage warning before and in flight
Automatic protects against reverse connection
Test the working state of lithium battery
Protect the battery from overcharging or overdischarging
Suitable for 1-8s Lipo/Li-ion/LiMn/Li-Fe battery
Voltage detection precision: ±0.01V
Unit voltage display range: 0.5-4.5V
Total voltage display range: 0.5-36V
1S test mode voltage range: 3.7-30V
Low voltage alarm mode for 2-8S
Alarm set value range: OFF- 2.7-3.8V
Size: 40mm x 25mm x 11mm.
Weight: 9g
Note: When the voltage is below the set value, it will buzzer with red LED Light, pre-set value 3.3V, push key which can change the voltage settings and save.
The Alarm sounds and red lights to warn you when the battery voltage is becoming lower than default setup or your setup. It can prevent your lipo battery damaged due to low voltage .
The default alarm voltage is 3.3v, the min. voltage can be adjusted by the button.
| | |
| --- | --- |
| 1-8S Voltage Meter Tester x1 | |
* When connected battery, plug the male pin head into the femal pin head on the battery, connect the negtive of the buzzer to the negtive of first "S" on the battery, no matter how many "S" it has, as long as the negtive of the buzzer is connected to the negtive of battery,leave the positive along (Attn:Can only be used to measure battery pack which is in series.)
Set voltage: press the button indicated by the red circle in the picture, you can change the voltage setting(the default setting is 3.3V), the setting will be saved automatically when you down! When voltage is lower than the setting limit, the buzzer will sound,and the red LED lit up;
Write a review
Your Name:
Your Review:
Note: HTML is not translated!
Rating:
Bad
Good
Enter the code in the box below: