2 PCS L293D Motor Drive Shield Expansion Board For Arduino Duemilanove Mega UNO
Product Code:
Motor Drive L293D x2
Reward Points:
0
Availability:
In Stock
Price: $8.98

L293D Motor Drive Shield
Please scroll down for product instruction and wiring schematic.
How to combine multiorders into one shipment:
Step1. pick up the item by clicking "ADD TO CART".
Step2. After you get all the items you want to buy into the "SHIPING CART", click "PROCEED TO CHECK OUT" and follow the instruction to complete the order.
Here is a design for a full-featured motor shield that will be able to power many simple to medium-complexity projects.
L293D is a monolithic integrated, high voltage, high current, 4-channel driver.
Basically this means using this chip you can use DC motors and power supplies of up to 36 Volts, thats some pretty big motors and the chip can supply a maximum current of 600mA per channel, the L293D chip is also what's known as a type of H-Bridge.
The H-Bridge is typically an electrical circuit that enables a voltage to be applied across a load in either direction to an output, e.g. motor.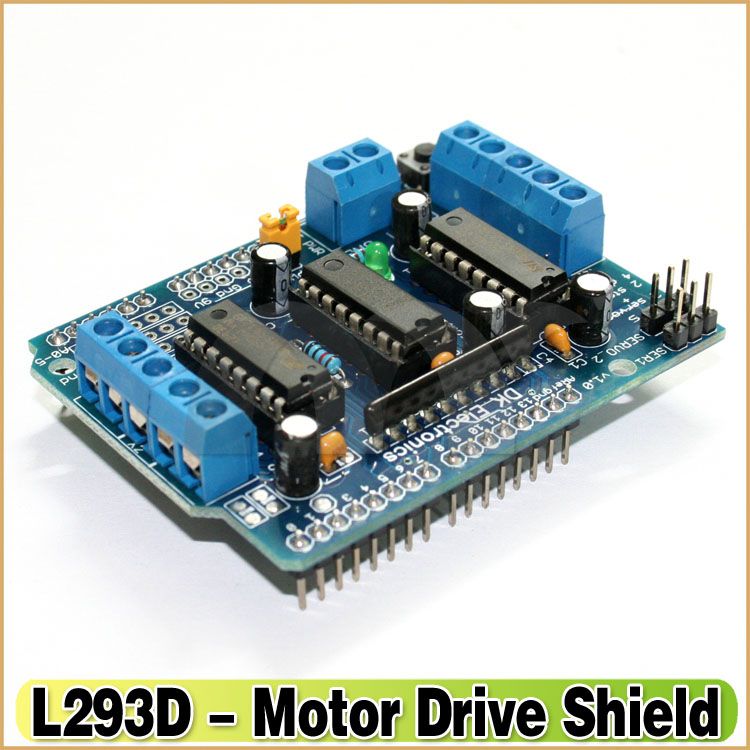 | | | |
| --- | --- | --- |
| | | |

2 connections for 5V 'hobby' servos connected to the Arduino's high-resolution dedicated timer - no jitter!
4 H-Bridges: L293D chipset provides 0.6A per bridge (1.2A peak) with thermal shutdown protection, internal kickback protection diodes. Can run motors on 4.5VDC to 25VDC.
Up to 4 bi-directional DC motors with individual 8-bit speed selection (so, about 0.5% resolution).
Up to 2 stepper motors (unipolar or bipolar) with single coil, double coil or interleaved stepping.
Pull down resistors keep motors disabled during power-up.
Big terminal block connectors to easily hook up wires (18-26AWG) and power
Arduino reset button brought up top.
2-pin terminal block and jumper to connect external power, for separate logic/motor supplies.
Tested compatible with Arduino Mega 1280 & 2560, Diecimila, Duemilanove, and UNO.
| | |
| --- | --- |
| L293D Motor Drive Shield x2 | |
Write a review
Your Name:
Your Review:
Note: HTML is not translated!
Rating:
Bad
Good
Enter the code in the box below: