DC 5V Stepper Step Motor + Driver Test Module Board ULN2003 For Arduino
Product Code:
ULN2003 STEP MOTOR
Reward Points:
0
Availability:
In Stock
Price: $5.68

DC 5V Step Motor + ULN2003 Driver Board
Please scroll down for product instruction and wiring schematic.
How to combine multiorders into one shipment:
Step1. pick up the item by clicking "ADD TO CART".
Step2. After you get all the items you want to buy into the "SHIPING CART", click "PROCEED TO CHECK OUT" and follow the instruction to complete the order.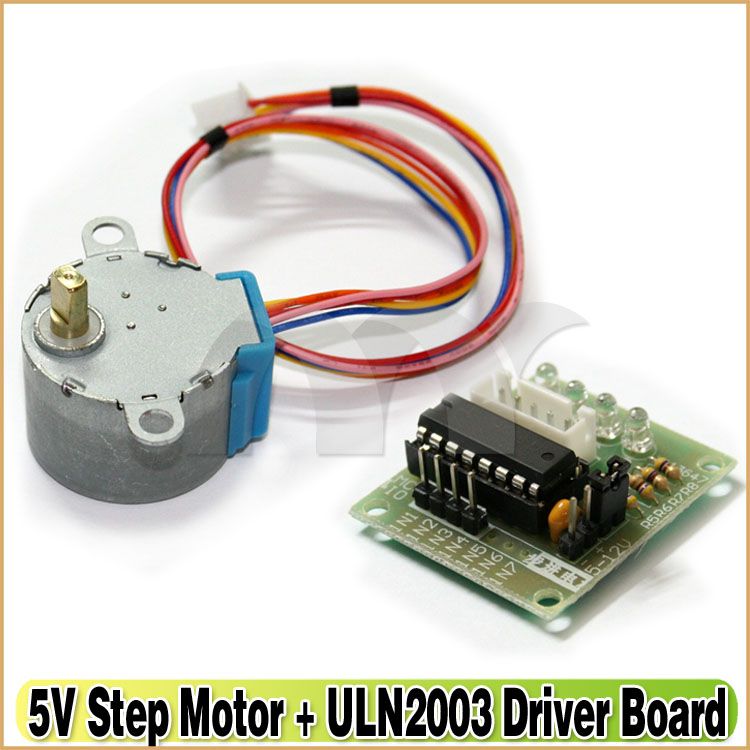 | | | |
| --- | --- | --- |
| | | |

Stepper Motor

ULN2003 Stepper Motor Driver Board

Rated Voltage: DC5V 4-phase
Reduction Ratio: 1/64
Step Torque Angle: 5.625/64
DC Resistance: 200Ω±7% (25C)
Insulation Resistance: >10MΩ (500V)
Dielectric Strength: 600V AC / 1mA / 1s
Insulation Grade: A
No-load Pull in Frequency: >600Hz
No-load Pull out Frequency: >1000Hz
Pull in Torque: >34.3mN.m(120Hz)
Detent Torque: >34.3mN.m
Temperature Rise: <40K(120Hz)
Noise: <40dB (120Hz, No load, 10cm)
Cable length :23.5CM

ULN2003 Darlington using high-power stepper motor driver chip.
A, B, C, D four-phase LED indicates the status of the stepper motor work.
Stepper motor with a standard interface, when used directly pluggable.
Drive Module Board Size:35mm x 31mm x 11mm
DC 5V Step Motor x1
ULN2003 Driver Board x1
The wiring method for stepping motor:
Left 1 N 1 ~ 1 N 4 connect to the four corresponding IO wires of MCU.
The right black pins are defined from top to VCC,A,B,C,D ( connect to the concentric line,phase A,B,C,D of stepping motor)s.
The wiring method for DC motor:
Left 1 N1 ~ 1 N 4 connect correspondingly to the four IO wires of MCU
The right black pins are defined as:below is VCC
Power supply method:
Connect short circuit hat,choose 5V as the working voltage for stepping motor/DC motor.
Take off short circuit hat,stepping motor/DC motor can choose external voltage for power supply via pins.
Write a review
Your Name:
Your Review:
Note: HTML is not translated!
Rating:
Bad
Good
Enter the code in the box below: