8MHz Dual TTL DDS Source Signal Generator 60MHz Sweep Frequency Counter
Product Code:
UDB1308S
Reward Points:
0
Availability:
In Stock
Price: $45.12

UDB1308S Dual-channel DDS Signal Generator
UDB1308S series are signal generators based on direct digital synthesis (DDS) technology, are deigned by adopting FPGA,it has the characters of high stability and low distortion ect,A/B two channel output, two channel TTL output, external frequency measurement, counter, etc.,and output signals are capable of regulating amplitude and DC bias. UDB1308S series have a sweep function and can freely set
sweep range and scanning time. UDB1308S series are applicable to laboratories and are used by engineering technicians and enthusiasts.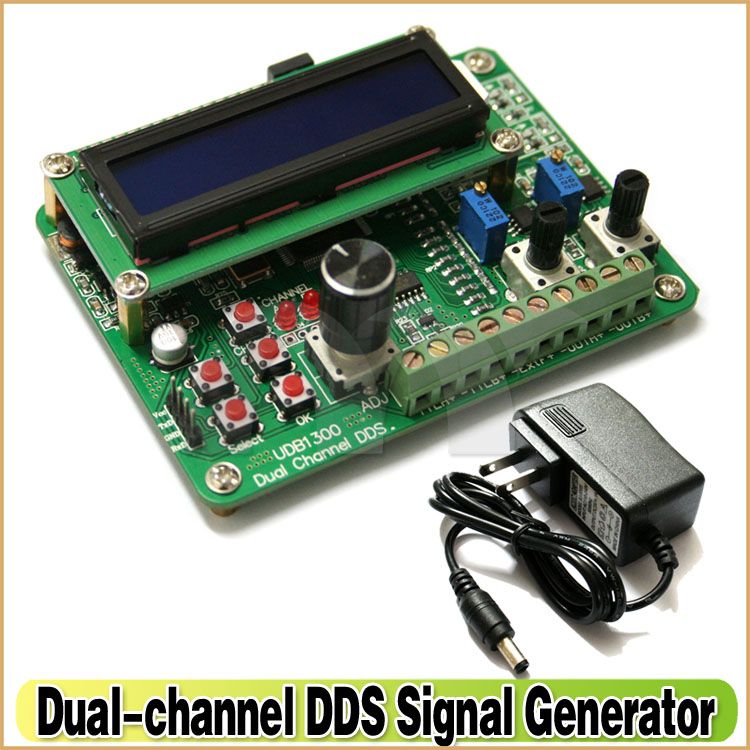 | | | |
| --- | --- | --- |
| | | |

Signal output function:
Output waveforms: Sine wave,Square wave, Triangle wave,Phase
Output amplitude: ≥9Vp-p(signal output ,no load)
Output impedance: 50Ω±10%
DC offset: ±2.5V(no load)
Display: LCD1602
Frequency range: 0.01Hz~8MHz(UDB1308S)
Frequency resolution: 0.01Hz(10mHz)
Frequency Stability: ±1×10-6
Frequency accuracy: ±5×10-6
Sine wave distortion: ≤0.8% (reference frequency is 1kHz)
Trinagle wave linearity: ≥98% (0.01Hz~10kHz)
Rise and fall time of square wave: ≤100ns
Square wave duty range: 0.1%~99.9%
TTL output function:
FFrequency range: 0.01Hz ~8MHz(UDB1308S)
Amplitude: >3Vp-p
Fan out coefficient: >20 TTL Load
COUNTER function:
Counter range: 0~4294967295
Frequency measurement range :1Hz~60MHz
Input voltage range: 0.5Vp-p~20Vp-p
SWEEP function:
Frequency range: fM1~fM2(frequency can be freely set)
Input voltage range: 0.5Vp-p~20Vp-p
SWEEP function:
Frequency range: fM1 to fM2
Sweep time: 1s~99s
Other functions:
Save and load parameter: M0~M9(M0:default load)
| | | |
| --- | --- | --- |
| | | |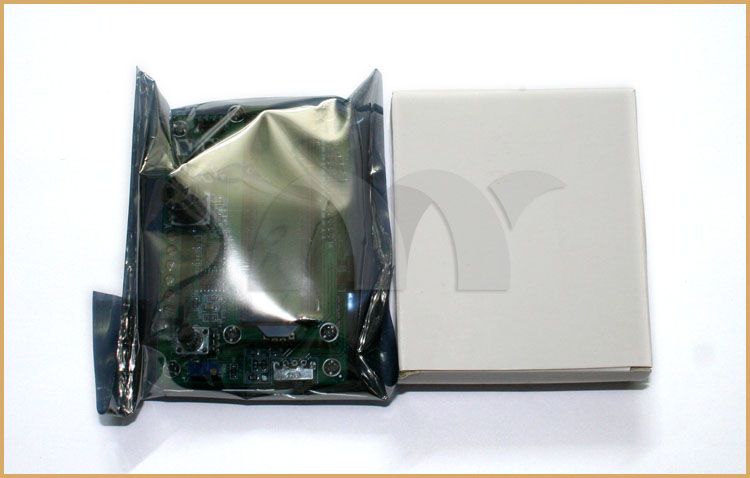 Signal Generator Source Module x1
DC 5V Power Adapter x1



Write a review
Your Name:
Your Review:
Note: HTML is not translated!
Rating:
Bad
Good
Enter the code in the box below: