UDB1005S Function Signal Generator Source Frequency Counter DDS Module Wave 5MHz
Product Code:
UDB1005S 5MHz
Reward Points:
0
Availability:
In Stock
Price: $30.26

5MHz UDB1005S DDS Function Signal Generator Module
UDB1000 Series DDS Signal Source Signal Generator with 60 MHz Frequency Module- UDB1005S 5MHz With Frequency Function.
This is a complete DDS signal source, Adopts DC5V power supply, can output the sine wave, square wave (Duty cycle Can be adjust from1% -99%) , triangle wave and sawtooth wave and various function wavefrom, maximum output can reach up to 10 Vpp, frequency range from 0.01 Hz-2 MHz .Resolution for 10 MHz, with TTL synchronization output and 60 MHz frequency meter.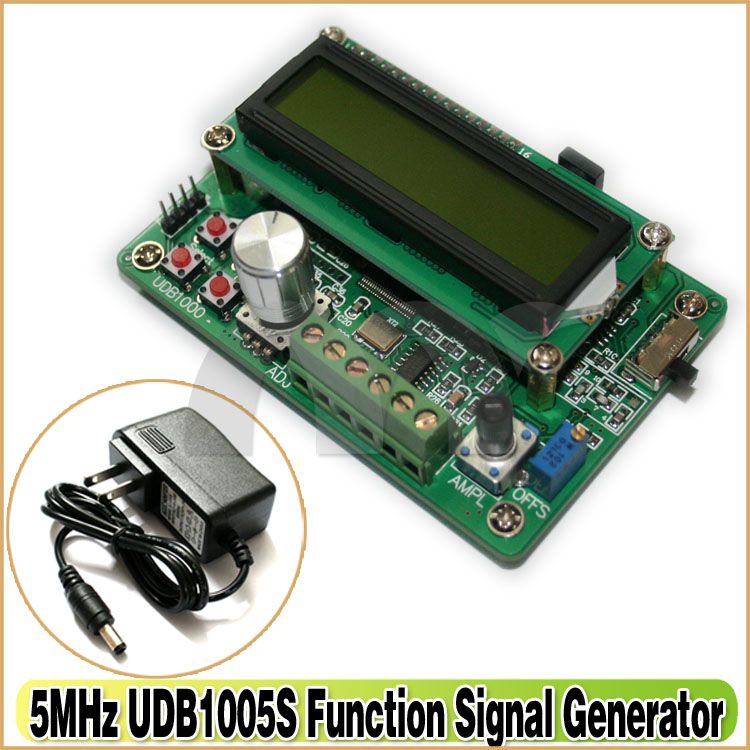 | | | |
| --- | --- | --- |
| | | |

Signal Output function :
Output waveforms:Sine wave, Square wave and Triangle wave.
Output amplitude:≥10Vp-p(signal output, no load).
Output impedance:50Ω±10%(signal output).
DC offset:±2.5V(no load).
Display:LCD160.
Frequency range:0.01Hz ~ 5MHz(SG1005).
Resolution:0.01Hz.
Frequency Stability:±1×10-6.
Frequency accuracy:±5×10-6.
Sine wave distortion:≤0.8% (reference frequency is 1kHz).
Trinagle linearity:≥98% (0.01Hz~10kHz).
Rise and fall time of square wave:≤100ns.
Square Wave Duty range:1%~99%
TTL Output function:
Frequency range:0.01Hz ~ 5MHz(SG1005).
Amplitude:>3Vp-p.
Fan Out:>20 TTL loads.
COUNTER function:
Counter Range:0-4294967295.
Frequency Meter Range:1Hz~60MHz.
Input Voltage Range:0.5Vp-p~20Vp-p.
Storage and transferred: 10 set of parameters with storage and recall functions.
Signal Generator Source Module x1
DC 5V Power Adapter x1
Write a review
Your Name:
Your Review:
Note: HTML is not translated!
Rating:
Bad
Good
Enter the code in the box below: