10MHz DDS Function Signal Generator Module Sine/Triangle/​Square Wave TTL SWEEP
Product Code:
UDB1210S 10MHz
Reward Points:
0
Availability:
In Stock
Price: $42.86

10MHz UDB1210S DDS Function Signal Generator Module
UDB12xxS series direct digital synthesis signal generator use DDS technology and FPGA design with the characters of high stability and low distortion ect., with the function of TTL output and 60MHz frequency meter, UDB100xS series have sweep function, the start and end frequency and sweep time can be set at will. It's the ideal equipment of electronic engineer, laboratory, production lines, the teaching and scientific research.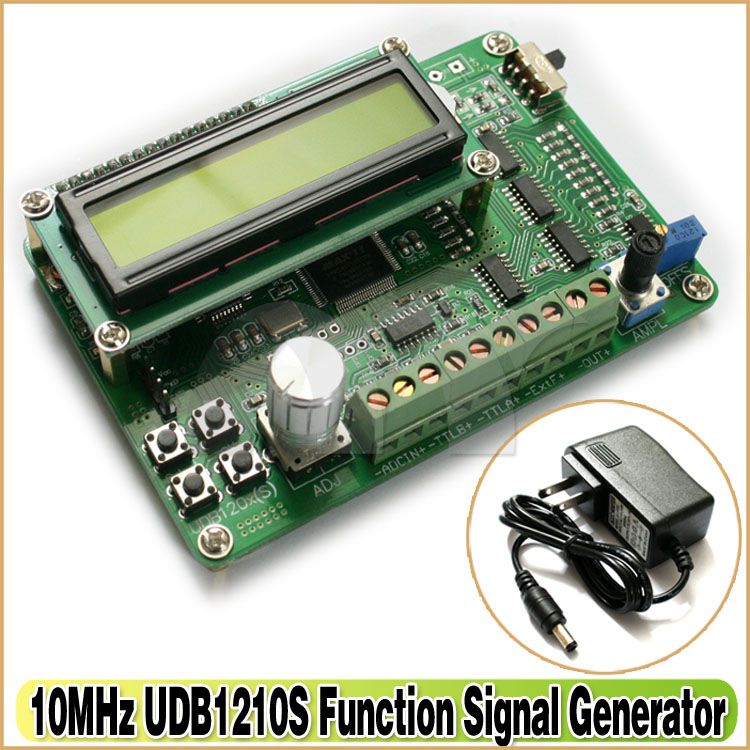 Signal Output function:
Output waveforms:Sine wave, Square wave and Triangle wave.
Output amplitude:≥9Vp-p (signal output, no load)(MAX)
About 0.1Vp-p (MIN)
Output impedance:50Ω±10%(signal output).
DC offset:±2.5V(no load).
Display:LCD1602.
Frequency range:0.01Hz ~ 10MHz.
Resolution:0.01Hz.
Frequency Stability:±1×10-6.
Frequency accuracy:±5×10-6.
Sine wave distortion:≤0.8% (reference frequency is 1kHz).
Trinagle linearity:≥98% (0.01Hz~10kHz).
Rise and fall time of square wave:≤100ns.
Square Wave Duty range:1%~99%(digital control mode)
TTL Output function:
Frequency range:0.01Hz ~ 10MHz.
Two ways of output phase difference 180o
Amplitude:>3Vp-p.
Fan Out:>20 TTL loads.
COUNTER function:
Counter Range:0-4294967295.
Frequency Meter Range:1Hz~60MHz.
Input Voltage Range:0.5Vp-p~20Vp-p.
ADC function:
Voltage measurement range: 0 ~ 5V
Resolution ratio: 0.001V(1mV)
Accuracy: ±0.5%
SWEEP function:
Frequency range: fM1 to fM2
Sweep time: 1s~99s
Others function:
Save and Load Parameter: M0-M9(M0: default load)
| | | |
| --- | --- | --- |
| | | |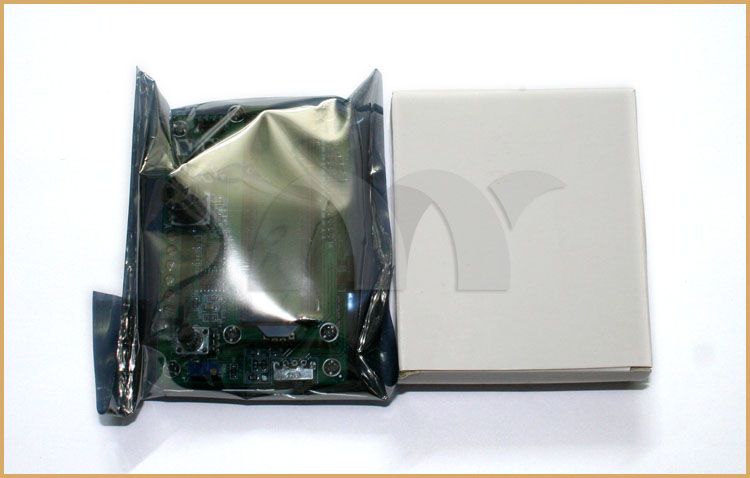 Signal Generator Source Module x1
DC 5V Power Adapter x1
Write a review
Your Name:
Your Review:
Note: HTML is not translated!
Rating:
Bad
Good
Enter the code in the box below: