Fastrax UP501 GPS Receiver Module Shield V1.2 Boards for Arduino Develop DIY
Product Code:
GPS Shield-UP501
Reward Points:
0
Availability:
In Stock
Price: $36.26

GPS Shield - Fastrax UP501
How to combine multiorders into one shipment:
Step1. pick up the item by clicking "ADD TO CART".
Step2. After you get all the items you want to buy into the "SHIPING CART", click "PROCEED TO CHECK OUT" and follow the instruction to complete the order.
The GPS Shield is base on the Fastrax UP501 receiver module , which with embedded GPS antenna enables high performance navigation in the most stringent applications and solid fix even in harsh GPS visibility environments. Support software SerialPoart and mini SDcard interface.
It's very easy using. You just need read SerialPort and then will get the GPS data. Its also could use with Bluetooth Shield. So you can send GPS data to Android phone by Bluetooth.
The GPS Shield module interfaces to the customer's application via one serial port, which uses CMOS voltage levels. support 3.3V / 5V IO operating. That's means 100% all Arduino mainboard compatible.
The Fastrax UP501 receiver with embedded antenna is ideally suited for navigation systems, asset tracking devices and battery operated consumer products like personal navigation devices, handheld computers, cameras, and sports accessories. Fastrax UP501 is also an ideal receiver for GPS mouse applications, due to its compact design and easy interfacing.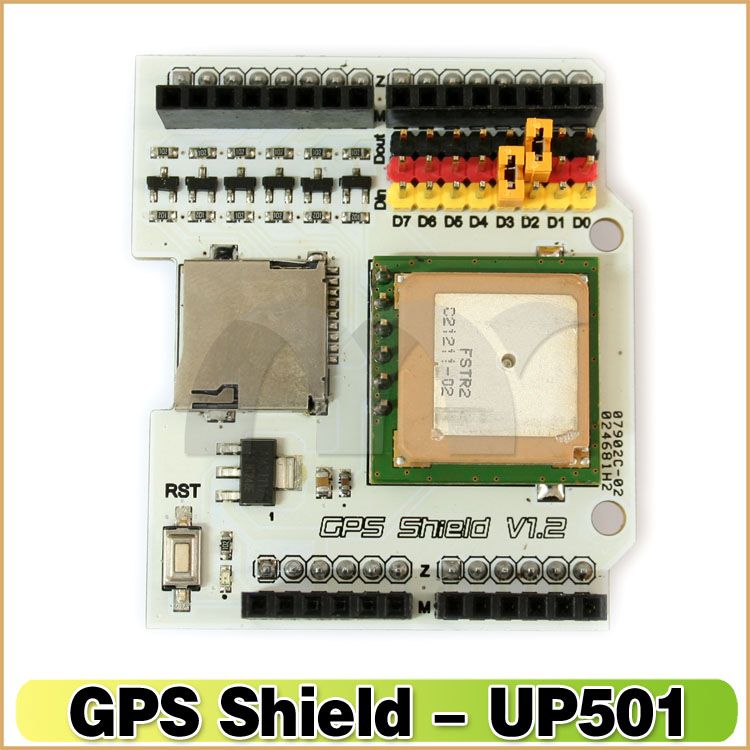 ElecFreaks GPS Shield default firmware configuration:
Port 0: NMEA 9600 baud
NMEA output: GGA, RMC, GSV, GSA (all 1 sec interval)
DGPS/SBAS: Disabled (Module supports WAAS/EGNOS)
Datum: WGS84
Hardware / Software Serialport support
Mini SDcard interface
Low power consumption: 75mW @ 3.0V
Configurable fix rate, up to 10Hz
Supply Voltage 3.0 - 5V DC
Ultra High Sensitivity:
–148dBm (Cold Start Acquisition)
–165 dBm (Navigation)
Tiny form factor – 22mm x 22mm x 8mm
Embedded patch antenna 18.4 x 18.4 x 4.2 mm
NMEA protocols (default speed: 9600bps)
One serial port (default: CMOS level, option: RS232)
1PPS output
A-GPS with 14-day extended ephemeris
WAAS/EGNOS support
MediaTek MT3329, Channels, 66 acquisition and 22 tracking
Optional Internal back-up battery
| | |
| --- | --- |
| | |
Write a review
Your Name:
Your Review:
Note: HTML is not translated!
Rating:
Bad
Good
Enter the code in the box below: